Events
Located on and off the farm, Apple Hill Farm has activities for all ages to enjoy. We have lots of fun things planned to do, and we hope you will join us! If you are interested in hosting your own event, please contact us for more information.
Events on Apple Hill Farm
Alpaca Shearing Day – June 5, 2021 (first Saturday of June every year) – Viewing by RESERVATION ONLY
Have you ever wondered what it's like when an alpaca gets a hair cut? Join us for Alpaca Shearing Day and see for yourself! Make a reservation for a one hour time-slot. You'll get a front row view of the whole process of shearing, fleece sorting, and more.
In person viewing is by RESERVATION ONLY.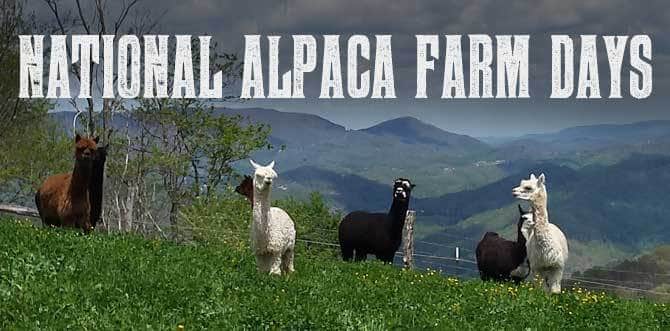 National Alpaca Farm Days –
September 25 & 26 2021
Over 1,000 farms will participate across the country to celebrate National Alpaca Farm Days. Come take a tour of Apple Hill Farm and see this year's new animals and products. We'll have tours  all day long! Advanced tickets are required for tours.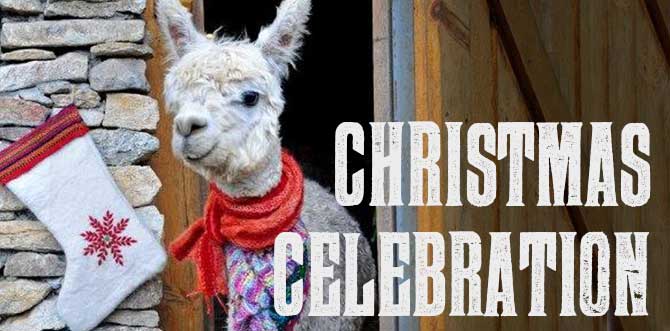 Christmas Celebration:
November 19 to January 3, 2021
Tour the farm Wednesdays through Sundays! Advanced ticket purchase required. The barn loft is decked out, the stockings are hung, and the local greenery is ready for a new home!
This tour is a guided walking tour of the farm and is generally 45 minutes. Please remember to dress for the weather and wear closed toed walking shoes. Regular tour fees apply. Weekend Pricing is in effect for Saturdays & Sundays, as well as Friday, November 26. Weekend Pricing will be in effect daily from December 26 to January 3.
We will be CLOSED December 25 & January 1.
Join us to buy your alpaca Christmas presents! Our farm store is stocked with lots of local goodies as well as some special Christmas presents.

Classes and other Special Events at Apple Hill Farm
Foundations In Painting: 4-week class

3 sessions: June, July, August
Are you looking for a jump start or ready to begin a new chapter? Are you looking for a safe outdoors space to let your creative side free? Do you just need a change of pace and a chance to unplug from technology? Can you imagine painting outdoors, surrounded by birdsong and grazing alpacas?
Join Foundations in Painting for an outdoor, informal but comprehensive exploration of painting with acrylics! Carlette Peters is partnering with Apple Hill Farm to bring you this safe and socially distant class held outside in the extraordinary & beautiful apple orchard at Apple Hill Farm.
There will be 3 sessions of this 4-week class offered for 2021. Sign up early to get your spot! There are only 4 spots in each class. Visit the class page below to learn more and sign up.
Knit with the Alpacas: June 26, July 10 & 31, 2021

Bring your knitting or crochet projects and join us for a relaxing morning outdoors in the orchard with our alpacas and llamas. Crafting time begins at 10:00 am and ends at 12:00 pm. We'll enjoy a few hours of care-free crafting together as the alpacas graze around us.
The Apple Hill Farm Store will open at 10:00 am if you need to pick up any last minute yarn or needles. The cost of this experience is just $15.
Head just 10 minutes up the road to Banner Elk or Valle Crucis for lunch after the crafting time wraps up, then join us again for our public tour for a chance to learn even more about our farm and the rest of our animal residents.
Farm Photo Tour: July 4, Aug 7, Sept 4, Oct 2, Oct 23, 2021

Join local photographer, Cindy McEnery, and our team for an exciting 90 minute photo tour of Apple Hill Farm. We'll work with you to find all the best spots to capture great photos of our beautiful landscape and our amazing animals — donkeys, goats, horses, and, of course, alpacas! Cindy will offer tips and suggestions on ways to get those special shots. Bring your iPhone, iPad, or digital camera. All levels of photographers are welcome.
This is a photography tour, not a workshop. We'll focus on enjoying the farm and sharing tips for taking better photos by concentrating on photo composition, light, positioning yourself, and other important factors. We will not cover the use of various camera settings.
The $40 fee is for ONE date of your choice. This tour is rain or shine, so come prepared with your rain gear!
Pre-registration is required. We will limit groups to no more than 6 people so everyone can get personalized feedback.
Be sure to:
– wear comfortable shoes as we'll be walking in fields and over hills
-wear a hat and sunscreen
-Bring rain gear for yourself and your camera
-bring a water bottle
– make sure your camera or phone battery is charged and ready to go!
Agritourism Works! Workshop: Sat June 12, Sat Aug 21, Sun Sept 26, 2021

Join us for a fun and engaging day on our successful Agritourism Farm!
-A down and dirty look at the nuts and bolts of Agritourism
-A behind-the-scenes tour of Apple Hill Farm
-The 4 Keys to starting and running an Agritourism farm
-Interactive workshop time to create or refine your farm vision
This full-day workshop, lunch included!
The workshop runs from 9:30 am until 4:00 pm. Join us early (9am) for coffee with the alpacas before we get started!
In 2020, Apple Hill Farm lead over 1,500 tours and welcomed over 11,000 visitors. We are excited to share our expertise with you – whether you already have an active agritourism farm or are just simply dreaming of the possibilities.
Need or want more help after the workshop is over? We also offer consulting to help you with your journey!
Events off the farm
Carolina Fiber Fest – VIRTUAL FAIR

March 12 & 13 2021
A great fiber festival that brings together knitters, spinners, weavers, crocheters and others in a celebration of fiber such as wool, silk, alpaca, llama, linen, cotton and bamboo. Features will include contests, free demos, classes and shopping for yarn and ready-to-spin fiber, patterns, tools and specialty items. Apple Hill Farm will be there with our full line of yarns!
For more information visit : www.carolinafiberfest.org
Fine Arts and Master Crafters – Banner Elk, NC (Sugar Mountain Resort)
July 16-18 and Aug 13-15 2021

Mixed media, jewelry, sculpture, blown and stained glass, pottery, painting, photography, textiles, unique craft, furniture, wood, and of course Apple Hill Farm yarn and products! A wonderful,high-quality juried show.
Show hours: 1 to 5 on Friday, 10 to 5 on Saturday, 10 to 4 on Sunday
Learn more here: https://averycounty.com/chamber-events/fine-art-master-crafts-festivals/
---
Valle Country Fair – Valle Crucis, NC
The Valle Country Fair is an overgrown church bazaar set in the center of one of the most picturesque valleys in the North Carolina mountains at the peak of the fall color season. 10 percent of all monies raised by vendors go to fund High Country organizations which serve people in need. Last year more than 10,000 people enjoyed, Crafts, food, mountain music; 150 juried fine art & crafts booths;  Freshly pressed apple cider; Hot-out-of-the-kettle apple butter; Homemade jams & jellies; Brunswick stew, chili, barbecue.
---
Southeastern Animal Fiber Fair – Asheville, NC
October 22 – 24, 2021

Join us for 3 days of fun for the entire family! See spinning, knitting, weaving, felting and much more! Join a workshop class to improve your skills or just enjoy browsing and shopping the beautiful and unique apparel and wearable art at SAFF!