Events
Located on and off the farm, Apple Hill Farm has activities for all ages to enjoy. We have lots of fun things planned to do, and we hope you will join us! If you are interested in hosting your own event, please contact us for more information.
Events on Apple Hill Farm
Alpaca Shearing Day – first Saturday of June every year
We shear our alpacas the first Saturday of June every year. We shear all of our alpacas in the orchard, right in front of the main barn. Shearing starts at 10 am and usually lasts until 2 pm. We will also have skirting and spinning demonstrations and our store is open all day.
Admission is $5 for adults, ages 11 and up. Free for 10 and under.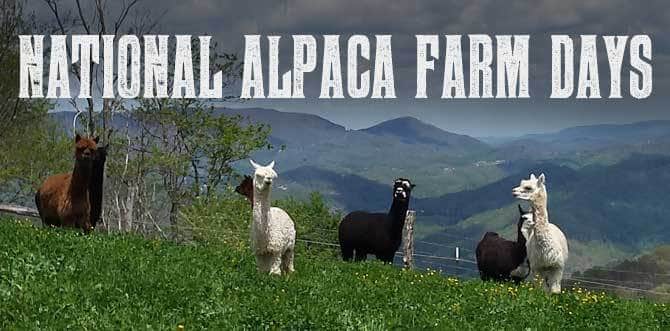 National Alpaca Farm Days – September 26 & 27 2020
Over 1,000 farms will participate across the country to celebrate National Alpaca Farm Days. Come take a tour of Apple Hill Farm and see this year's new animals and products. We'll have tours  at 11 and and 2 pm on both Saturday and Sunday. All guests will pay $5 a person and be able to take themselves on a self guided tour of the barnyard and orchard area for the full day.
$5 admission for all visitors. Regular tour fees apply for tours.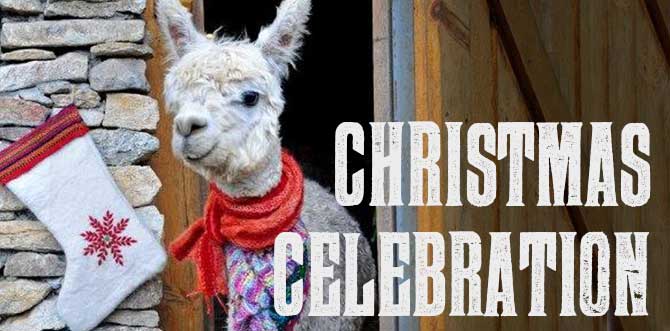 Christmas Celebration – November 13 to December 13, 2019
Tours of the farm every 30 minutes between 10am and 4pm Fridays, Saturdays, and Sundays from November 15 to December 8.
This tour is a guided walking tour of the farm and is generally 45 minutes. Please remember to dress for the weather and wear closed toed walking shoes. Our tour rate for this event is $12 for adults, $7 for children ages 4 to 10, and free for children 3 and under.
Join us to buy your tabletop tree, hand-tied wreaths, and all your alpaca Christmas presents.
Classes and other Special Events at Apple Hill Farm
CAMELIDynamics @ Apple Hill Farm: May 2 to May 4, 2020
Learn how to really listen to and understand your animals!
There is no substitute for seeing CAMELIDynamics in action…taught by the person who invented it!  Marty has traveled over a million miles around the world teaching her brand of animal understanding.  It isn't enough to have a mastery of the material, a teacher must be able to excite and inspire. Marty is exceptional at both. She uses training aids she developed herself, along with a variety of role playing exercises designed to help owners really understand their wooly buddies.
There is nothing like feeling what it is like to wear a halter or to be led, to give you a whole different point of view. Have fun, be inspired and leave with a higher level of skill and understanding. This three day event is designed for all skill levels and includes her very popular "Show like a Pro" day. If you have been to a clinic in the past* consider coming back for a refresher and see for yourself how the method is constantly evolving.
Knit with the Alpacas: TBD for 2020

Bring your knitting or crochet projects and join us for a relaxing morning outdoors in the orchard with our alpacas and llamas. Crafting time begins at 10:00 am and ends at 12:00 pm.
Apple Hill Farm will be hosting monthly Knit with the alpaca experiences on the second Saturday of June, July, and August. We'll enjoy a few hours of care-free crafting together as the alpacas graze around us.
The Apple Hill Farm Store will open early at 9:30 if you need to pick up any last minute yarn or needles. The cost of this experience is just $10; each participant will receive 10% off in the farm store for the day, including tour fees!
Head just 10 minutes up the road to Banner Elk or Valle Crucis for lunch after the crafting time wraps up, then join us again for our public tour at 2 pm for a chance to learn even more about our farm and the rest of our animal residents.
Agritourism Works! Workshop: Spring and Fall 2020 dates TBD

Join us for a fun and engaging day on our successful Agritourism Farm!
-A down and dirty look at the nuts and bolts of Agritourism
-A behind-the-scenes tour of Apple Hill Farm
-The 4 Keys to starting and running an Agritourism farm
-Interactive workshop time to create or refine your farm vision
This full-day workshop, lunch included!
The workshop runs from 9:30 am until 4:00 pm. Join us early (9am) for coffee with the alpacas before we get started!
In 2018, Apple Hill Farm lead over 700 tours and welcomed over 6,000 visitors. We are excited to share our expertise with you – whether you already have an active agritourism farm or are just simply dreaming of the possibilities.
Need or want more help after the workshop is over? We also offer consulting to help you with your journey!
Events off the farm
Southern Alpaca Celebration – Concord, NC (Cabarrus Arena)
February 15-16, 2020
Alpaca and alpaca fleece show, celebrating alpacas and farms that call North and South Carolina home. This event also includes fiber arts competitions, educational classes, and lots of first-class vendors, including Apple Hill Farm!
For more information visit: carolinaalpacafarms.org/cac/
---
Carolina Fiber Fest – Raleigh, NC (State Fair Grounds Expo Building)
March 13 & 14 2020
A great fiber festival that brings together knitters, spinners, weavers, crocheters and others in a celebration of fiber such as wool, silk, alpaca, llama, linen, cotton and bamboo. Features will include contests, free demos, classes and shopping for yarn and ready-to-spin fiber, patterns, tools and specialty items. Apple Hill Farm will be there with our full line of yarns!
For more information visit : www.carolinafiberfest.org
---
Independence Day Parade – Banner Elk, NC
July 4, 11am every year
Apple Hill Farm will participate in the July Fourth parade and celebration in downtown Banner Elk. With Llamas in the parade and alpacas and a booth in the park, it's always a good time. Don't miss the rubber ducky races!
Fine Arts and Master Crafters – Banner Elk, NC (Sugar Mountain Resort)
July 17 – 19 & August 14-16 2020
Mixed media, jewelry, sculpture, blown and stained glass, pottery, painting, photography, textiles, unique craft, furniture, wood, and of course Apple Hill Farm yarn and products! A wonderful,high-quality juried show.
Show hours: 1 to 5 on Friday, 10 to 5 on Saturday, 10 to 4 on Sunday
Learn more here: https://averycounty.com/chamber-events/fine-art-master-crafts-festivals/
---
Valle Country Fair – Valle Crucis, NC
Saturday, October 17, 2020
The Valle Country Fair is an overgrown church bazaar set in the center of one of the most picturesque valleys in the North Carolina mountains at the peak of the fall color season. 10 percent of all monies raised by vendors go to fund High Country organizations which serve people in need. Last year more than 10,000 people enjoyed, Crafts, food, mountain music; 150 juried fine art & crafts booths;  Freshly pressed apple cider; Hot-out-of-the-kettle apple butter; Homemade jams & jellies; Brunswick stew, chili, barbecue.
---
Southeastern Animal Fiber Fair – Asheville, NC
October 23 to 25, 2020
Join us for 3 days of fun for the entire family! See spinning, knitting, weaving, felting and much more! Join a workshop class to improve your skills or just enjoy browsing and shopping the beautiful and unique apparel and wearable art at SAFF!